The Caerus PIXPAD INDOOR was especially developed for organisations and companies that want to remain top of mind. People will remember moving images much more easily than static images on paper. The minimalist, sleek design seamlessly integrates in any interior and is a must-have for realtors, temp agencies and retailers.
Ultra-thin (61 mm) and light-weight

Fitted with wheels

An elegant and sleek design

Caerus control software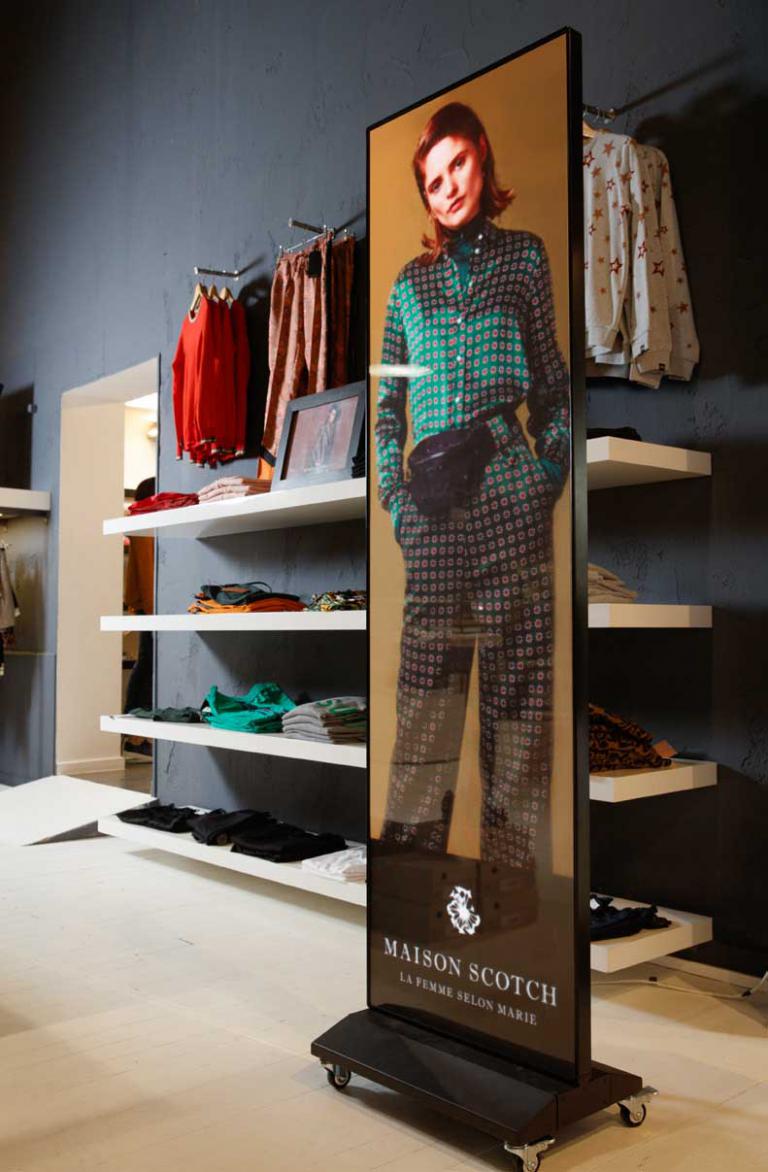 Omschrijving
The perfect design for indoor use
The PIXPAD Indoor has been perfectly optimised for indoor use. The LED lights are positioned very close to each other, reducing the pixel distance, offering unrivalled resolution. The perfect eye-catcher for any company!
If it's an outdoor LED screen you're looking for, then check out our Outdoor XL, Outdoor Mobile and Outdoor Wallmount.
Caerus PIXPAD Indoor: 72", 80" and 89"
The Caerus PIXPAD Indoor is available in three sizes: 72, 80 or 89 inch. The latter is considerably wider than the first two models and can also be installed in landscape orientation. In other words, just tilt the LED screen sideways and hang the digital advertising panel horizontally on your wall. Caerus Vision also has a wall mount.
Easy to control with Caerus Control
No hassle with overly technical controls. Control your LED screen intuitively with our Caerus Control software, which was developed in-house. Our team of developers and engineers works on this software daily to make it as user-friendly as possible. You just have to log on to the platform, add media, create a playlist and schedule it. And then you're good to go!
Affordable and effective advertising
Why pay through the nose for paper advertising which nobody might notice and which may end up in the dustbin? Invest in a durable LED screen instead to create much greater visibility. Caerus Vision also leases and rents out solutions.
Technische fiche
Technical specifications
Pixpad
INDOOR
Pixpad
INDOOR

72

Pixpad
INDOOR

80

Pixel pitch (mm)
2,6
2,57
Pixel density (pixel/m²)
147475
151284
View angle (H/V)
160/160
160/160
Brightness (cd/m²)
800
800
Refresh rate (Hz)
300-4000
300-4000
Optimized viewing distance (m)
> 2,5
> 2,5
Display size in pixel (W*H)
192*672
224*756
Display size in mm (W*H)
500*1770
567*1944
Overall size in mm (W*H)
520*1770
596*1964
Processing System
Nova MSD300
Nova MSD300