The PIXPAD Outdoor Mobile is an advanced mobile, digital advertising screen that you can easily use as a digital pavement sign or advertising screen at the entrance of your company or can take with you to any event.
Brightness is automatically adjusted

Protective glass for the LEDs

Can be fitted in a passenger vehicle

Visible in full sunlight

Single or double-sided

Caerus control software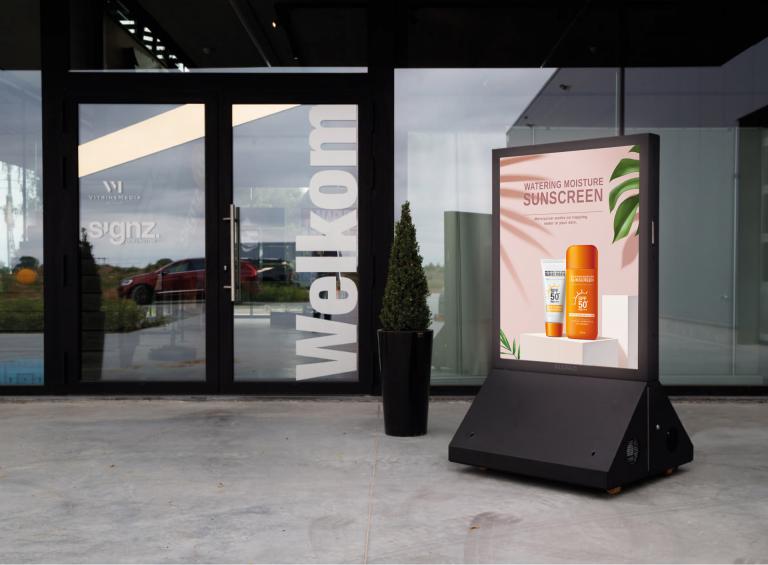 Omschrijving
Light, stylish and compact
Caerus Vision's mobile digital advertising screen is extremely mobile, as you may have guessed from its name. You can remove the top part from the pedestal, so it can fit in any car. What's more, all the electronics are integrated in the top part of the screen, so that it can also be operated without the pedestal. You can convert your PIXPAD Outdoor Mobile into a PIXPAD Outdoor Wallmount in no time at all. The top unit with the LED screen automatically clicks in place when it is installed on the pedestal with the sprung locking pins. The top unit and pedestal also come with a 'sit-in' connector system, meaning you don't need to connect any cables whatsoever. A relay activates the battery voltage when the two units are stacked. Easy as pie!
100% developed in-house
Caerus Vision developed the PIXPAD Outdoor Mobile entirely in-house. The design, the mechanics and the operating software were all developed and built in-house. The pedestal of the screen can be fitted with a battery offering an autonomy of 14 hours. This means you can leave this digital advertising sign outside all day and charge it overnight. The pedestal has wheels so it can be moved around more easily. These wheels are fitted with brakes, so you don't have to worry about installing your LED screen on a slope.
Intuitive, user-friendly operating software
Caerus Vision works daily on its operating software, which was developed in-house, in order to make it as user-friendly as possible. All our screens can be operated with our Caerus Control software. All you need to do to get your images on your screen is upload your photos and videos to our portal, create a playlist and schedule it. So you always get to see what you want to see at any given time. A handy tool to put sponsors in the spotlight during a coffee break at a seminar or fun promotions at a strategic time.
 
Technische fiche
Technical specifications
Pixpad
Outdoor Mobile
Pixpad
Outdoor Mobile

2.9

Pixpad
Outdoor Mobile

3.9

Pixel pitch (mm)
2,9
3,9
Pixel density
113367
65536
View angle
140/140
140/140
Brightness
5500
5500
Refresh rate
> 1920
> 1920
Optimized viewing distance (m)
> 3
> 4
Display size in pixel (W*H)
252*336
192*256
Display size in mm (W*H)
750*1000
750*1000
Overall size in mm (W*H*D)
860*1575*800
860*1575*800
Precessing System
Nova MSD300
Nova MSD300